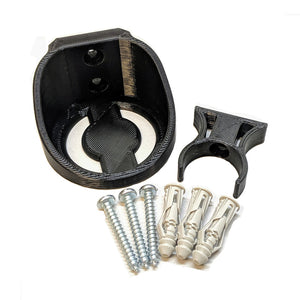 Protection and Defense Lightsaber Wall Mount with 2 Prongs
Regular price $20.00 $15.00 Sale
This lightsaber wall mount is one of the best mount on the market and at the best price point. It has been designed to hold any lightsaber you may have.
This mount has been designed specifically for the sabers from savis workshop with the Protection and Defense 2 prong pommel.  I have designed 2 cuts into the bottom of the mount to allow the prongs to go through. 
This mount is 3D printed and reinforced to withstand the weight of any hilt made. The wall mount comes will all hardware to install and can be set into just sheet-rock. The anchors are rated up to 35 lbs so no worries on your saber wall mount pulling out of the wall.
 Works great with Galaxy's Edge lightsabers

In the package: 1 wall mount, 1 blade clip (to insure the hilt does not fall off the mount), 3 sheet-rock anchors, and 3 screws.

Will make a deal on orders over 5! just send me a message

Not associated with LUCASFILM LTD or LFL LTD film or franchise.