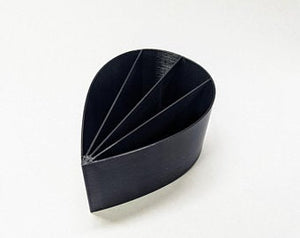 4 Channel Paint Pour Cup (4oz)
Regular price $12.00 Sale
This listing is for a Professional 4oz Acrylic Paint Pour Cup. This cup has been professionally designed and printed in house and we guarantee only the best quality products leave our shop. This pour cup has 4 separate compartments (each 1oz) to allow for a multi-color pour of equal volumes of acrylic paint.

Cleaning instructions- Clean your pour cup immediately after use to reduce the risk of paint drying in the cup. I have curved the inside of each channel at the bottom to make it easier to clean.

****DO NOT RINSE IN HOT WATER as the cup will WARP and may effect later pours.

If you have a custom design idea for a pour cup or need something specific for your painting let me know we love doing custom jobs!

additional sizes available if you need larger cups.