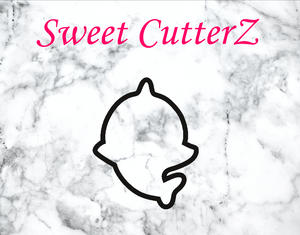 Baby shark cookie cutter
These sweet cutterz are all designed and 3D printed in house. I use high quality plastic for each cutter. Quality is my number one goal for all of my products. The cutting edge has been designed to give a very nice cut so the edges of the cookies will not come out rough. The cutterz are also designed with a lip on on the top going both inside and outside. This allows for a great grip while cutting.

Standard cutter size; 3.25in. If you would like a different size please let me know and I will size it how ever you need.

I can get most cutters designed, printed and shipped within 3 day. If you need it rushed please let me know and I will get it to you.

I can do any design you like. Just send a picture and let me know how big you want it. I LOVE custom cutters and these will make your event stand out.

These cutters make an amazing gift for any holiday or special occasion! Birthday parties, bridal showers, Mother's day, Father's day, Graduation, Anniversaries, Easter, Valentines day and more!! I can do anything out want for any occasion!

If you are a baker, stand out and have the most unique cookies out there! I will work with you to make the perfect cutter for any event you might have.

Most cutters will come in white or clear. If you would like anything different please let me know.